Read more
Nitro Navy Team I have a wonderful and very supportive family and three dogs. We enjoy doing things as a family as much as we can. In the summer time we are always going somewhere and trying to do something fun.
In my spare time I recently discovered I enjoy building things out of wood. My most recent finished project was a large dog cage for all of my dogs and, I have just finished drawing up plans for a new bed.
I am an Army veteran and also a Fort Wayne Police officer. I wouldn't be able to be a part of this program without there but,  support of my friends, family, and work command. 
---
Follow My Blogging Journey
May 21, 2017
I guess I have been kind of slacking off this week in regards to blogging so I guess its time to share a bit. The workouts this week went pretty good but, of course I am still having pain in my legs. In fact as I sit here my left leg is throbbing on occasion for no apparent reason. Because of this, I was told not to run this week and see how I feel come Wednesday. Now as much as I complain about running sometimes I was a bit upset that I could not not do the seven mile run planned for Saturday. Instead I was stuck at the gym doing the eliptical and stair master. Of course it was a good workout but, I would of rather been running with everyone else. I was a little jealous that I did not get to be in the group photo. I will be crossing my fingers that my legs feel better in the next few days.
Everything else seems to be going alright. I was a little extra hungry more often today but, I worked through it and made good choices. At least I think I did. When Jenny or Amanda goes over my food journal I will know for sure.
I look forward to this next week and getting that much closer to my goal weight.
May 13, 2017
Today was out six mile run and I literally just got home. I am not afraid to admit that I was dreading this run the entire week. For one, my calves and shins have been killing me all week and two, I have never been good at running and only ever did it because, I had to. Now that the run is over I feel great and I don't think I will be dreading a run as much as I was today. My legs aren't even sore. On top of that I was able to run with the lead group almost the entire way and toward the end we went from a 5 and 5 ratio to a 6 and 4 ratio. Hopefully what I am saying is making some sort of sense. I haven't been to bed yet after working all night and have not been to bed yet.
May 12, 2017
Well its been a few days since I last blogged and I thought I might jot something down. For the most part this week I have felt pretty good. However, my calves and shins are still giving me problems. I went to Summit Fitness and was given some stretching exercises I can do to help with the problem. I have been doing these but, my calves still feel incredibly tight which of course brings the pain if I push too heard. So Yesterday in the pool I was told not to push it too hard and not to do certain exercises. Then instead of the run in the afternoon I did the elliptical machine for 50 minutes instead. I am not going to lie, I kind of felt like a slug not working as hard as I could on certain exercises. Of course the wall kicks and swimming made up for that later. So I will continue doing my exercises and hopefully in a few days I will feel like a whole new person.
May 7, 2017
Well, another week down and on to the next. I had some good workouts throughout the week and I have been exhausted each day. Thursday was pool day which went great. After that John and I completed our challenge for the week. 12 trips down and back with the sled doesn't sound like much but, after being in the pool all morning my legs were screaming at me to give them a rest. I promptly told my legs to shut up and John and I were able to finish in about 18 minutes.
Saturday's run was four miles with a walk run ratio of six and four. After pushing myself too far last Saturday with the five and five ratio I stuck to the scheduled times today. I feel I had a good run today and while my legs were still a bit sore throughout the day I still felt really good. Once I use the roller on the painful areas of my legs I will feel much better.
My oldest son really surprised me today and I felt great. I was walking around in my shorts and my oldest son looked at me and said, Dad, you look great! He pointed out my legs and remarked how much smaller they looked. This was much better than my 6 year old's occasional statement to me that consists of, "when I grow up I want to be fat like daddy". Kids say the darndest things and lets face it, I wasn't exactly small before this thing started.
Physically I am feeling pretty great. I haven't been sick other than a small stomach thing the last day or so and I don't remember when my last headache was. I used to get headaches all the time and I got cold's constantly. Even so the last couple days have been hard for me because, I have been constantly hungry no matter what. On top of that we celebrated my son's birthday today and of course there was cake and ice cream. I am sad to admit that I had a small piece of cake. I don't now why I did it and I have felt guilty all night and I am kicking myself. So now I am sitting here worried how much this will affect me and what Monday's weight loss will look like. After last weeks messed up weigh-in  I am feeling a little stressed. So I guess we will see what happens then.
May 1,2017
Thank you Rick for the comment I found out today that weighing in at that time did make a bit of a difference. For those who don't know I went to Indianapolis Sunday and Monday because, I am reenlisting in the Army National Guard. While I was there I had to complete a physical and part of that was a weigh-in and looking at our body fat percentage if we weigh more than what the Army says we have to. I am proud to say that I weighed in at 217.8lbs which puts me at a loss for the whole week. Needless to say I was a bit excited. To top it off I passed my body fat percentage as well because, the Army claims my max weight is 171lbs. So the day went pretty well.
On a negative note I did not have much choice in regards to food while I was there. We were not allowed to leave the hotel so I was forced to eat what fit in my lunchbox for Sunday and what was served at the hotel buffet. They had some healthier choices but, nowhere near perfect. Monday was a bit worse food wise. Breakfast was okay but, lunch was terrible in regards to how I have been told to eat. For lunch I was given a small sub with turkey lunch meat and cheese. Along with that I was given chips, cookies, and an orange. So I ate the turkey sub and my orange along with someone else's orange. I did not eat the chips or cookies so that was a plus. I just found it ironic that people who are concerned with my height, weight, and overall health couldn't at least give me some  lettuce and tomato and something other than chips and cookies.
Now that my complaining is done lets get week 6 going and kick its butt. My legs and ankle are feeling much better compared to Saturday.
April 30, 2017
Today I had to meet Rick and weigh-in because, I am leaving out of town this afternoon and am not sure I will be back in time for the weigh-in and nutrition meeting tomorrow. The feeling of flying high after each week of weight loss has now ended. Instead I feel a little like crap and disappointed. Somehow I gained 1.2 pounds this last week and I know I was doing everything possible to do well this week. I know Rick says everyone has their bad week but, I figured when my time came around it wouldn't be an actual weight gain. As bad as I feel right now I am going to take that and turn it into a reason to work that much harder in the coming weeks. The weight I am at now is the weight I have hovered around for the last 10 years and I am determined to kick its butt. Nothing is going to stand in the way of my goal.
Bring it on Week 6!!!!
April 29, 2017
This morning we were scheduled to do five miles. The run walk interval was 7:3 but, Tina said if we were up for it we could do a 5:5 interval. Of course I told myself I could do the 5:5 interval and I did pretty good for the first half of the run. Unfortunately I think I tried pushing myself too fast because, by the time I got to the turn around point my calves and ankles were extremely tight and my right ankle was starting to hurt. Thankfully Tina saw that I was starting to struggle and told me not to run through it so I would not hurt myself. I am kind of stubborn and probably would have tried to run through it and possibly hurt myself. So I walked through the pain for about a mile and my ankles and calves loosened up and the pain finally subsided. At that point I was able to walk/run the rest of the way without any problems.
Fast forward to this afternoon and I completed the second stair master challenge. I was not only able to do my 100 floors faster but, I didn't put my hands down on the side bars making it more challenging. The stair master is a big challenge for me because, my legs get tired real fast. Thankfully today there was another Spiece member next to me who was much older and killing it. I am pretty sure he did over 200 floors on the stair master. I wanted to slow down my speed several times but, every time I thought about it I just looked at the guy next to me and kept on going.
April 24, 2017
Today was another weigh-in and another 5lbs down. I think think that makes 19lbs total since the program started and almost 30lbs since the end of January. I am on a roll and that much closer to my goal weight. If I keep this up I think I can be under the 200lb mark in about 4 weeks. I haven't been below 200lbs in over 10 years.
Also today was a taste testing at St. Francis and I really enjoyed it. I got some new ideas and I will definitely be visiting Olive Twist tomorrow. Thank you to everyone involved who made it happen.
April 23, 2017
SO today was the 5k at St. Francis and, while I didn't quite get the time I was striving for I came within only a couple minutes slower of what I wanted and I feel pretty good. Of course its now several hours later. I was exhausted at the end and if it weren't for Ashley running with me that last part before the home stretch I am pretty sure I would of started walking to catch my breath. Instead I ran well over 4 minutes straight to the finish.
Some bad news for me though is my sodium intake for the week was high. I tend to forget about looking at the sodium levels of things I eat. For instance I made a chicken parm dish with whole wheat pasta and a sauce recipe I got from Jenny my nutritionist. However, I added a couple different tomato products and did not think to look at the sodium on them. So of course the levels were insane. Still less than I am sure I was eating before but, still nuts. This next week I need to make sure I am paying closer attention to these salt levels.
April 21, 2017
Okay so today was a rough day for me. No matter what I did I was constantly hungry and having cravings for things I haven't thought of in 2-3 weeks. I am pretty sure it started with my dad bringing doughnuts over for the kids. Which is weird because, I didn't really eat doughnuts before this whole thing started. I can probably count on one hand the number of doughnuts I have ate in the last 2-3 years. Luckily there was only one doughnut for each kid and no extra. I wanted to eat even when I knew I was not physically hungry. Now that the day is over and bedtime is fast approaching those cravings and hunger have pretty much subsided and, hopefully tomorrow is better.
On a more positive note I am looking forward to the 5k on Sunday. You might want to take a picture of this post because, it is not very often I look forward to a run.
April 17,2017
Well it was another weigh-in today and if you have not looked at the results yet I lost another 4 pounds. As I see the scale I know I am loosing weight and I can even feel it when I put on my cloths at home. I even had some other contestants mention today that they can even see the difference when they look at me. Thanks to Parker for mentioning it after the meeting today. While this was a huge boost about how I feel about myself I think I am still my own worst enemy. I say this because, I look in the mirror and I honestly don't see what everyone else has told me. So I take that feeling and use is as more motivation to work my butt off every morning.
On another note I realized today that I have not had to take my doctor prescribed heartburn medication in about two weeks. When this program started I had to take the medication on a daily basis and if I was even a few hours late my body would let me know real quick. There were times that I would even have to take a second pill halfway through the day for relief. The fact that I have gone this long without this medication has me really excited. If I can continue this on a long term basis my wallet will be happy too.
April 16, 2017
I meant to do this earlier on Easter but, I got so busy I forgot. Today was a pretty good day with the family. The family was nice enough not to make any pie for once so dinner went pretty well. Someone made brussell sprouts today along with everything else and that was the first and last time I tried those things. You can't say you don't like something if you don't try it. Now I can officially say no way. It was nice to rest and relax today. My legs have been exhausted and needed that long awaited rest. I am hoping my shins feel a bit better tomorrow after some needed rest ans stretching. I am going to try my run at the Lindenwood nature preserve tomorrow. The trails are pretty decent along with some hills and not as boring as some circle track.
Tomorrow is the big weigh-in day so wish me luck.
April 11,2017
Well CiCi was back today and let me just say WELCOME BACK!! She did not disappoint. I was exhausted but, I feel great. I started getting some shin splints a little bit from some of the running I have been doing so I am working on that. After communicating with one of my nutritionists I realized I was almost doubling my starches and not even realizing it. My problem was I was making my servings of whole grains separate from my starches so I was eating way more than I realized. Looking back this sounds like it was common sense so I feel a little silly. I also need to plan my meals out a little better. Last week I was really busy and went out of town as well so that made some things difficult for me in some cases.
April 10, 2017
Today was weigh-in #2 since our workouts all began. If you read any of my blog down below you know that I set a goal fro 10 pounds. Unfortunately I was 5.4 pounds short. I can't be upset though because, it was a pretty outstanding goal anyway. Any goal too easy to meet is not a challenge, and I love a good challenge. So I will continue working hard and eating the way I am supposed to and, we will what the next weigh in has in store for us. I am ready for the new week to begin and to see how the our first actual run goes.
April 5, 2017
I just finished Wednesday's workout and as tired as I was I am feeling pretty good. Way better than I felt during that first week. Flashback to Monday for our weigh in and, I was pleasantly surprised. I lost five pounds in a week. And event though I did not have any cheat days and was working hard in our workouts I was concerned I lost less than that. I don't know if it is possible but, I have set a goal to double that number to 10 pounds for the next weigh in. Some may say I am crazy and it's possible I won't reach it but, I am sure going to do everything I can to get there. When next Monday comes no matter what the results I will be able to say I did everything I could.
I also had the chance to talk with my nutritionists jenny and Amanda today about my food journal. I think we had a bit of a laugh because I had a crunch wrap as one of my dinners last week. I know what your thinking and I think they thought the same thing at first. Josh went to Taco Bell. But, of course I didn't. I just found a way to bring a yummy Taco Bell inspired idea home and make it better.
March 30,2017
So yesterday we were on CiCi time and what a time it was. Who knew just moving my legs could be so much work. I was sore all day and I had a ton of Jello afterward. Of course all that Jello was all in my legs. Later that evening we met for the first time at Deer Ridge for a nice not so leisurely walk. Fast forward to today which was out first day in the pool. I had no idea what we were in for but, I knew the trainers weren't going to take it easy on us. The workout was tiring, had me breathing hard but, it was fun and everyone was encouraging.
So far I have been doing good in regards to my eating. I have had a few cravings here and there, especially when I was working the other night and everyone around me was eating Chevvys pizza (aka the best pizza ever). I stuck to a salad instead and found once I ate the cravings went away. Then there was the movie last night where I hit a big milestone. The first movie I ever went to without getting popcorn, pop, etc. Oh yea and its been two weeks to the day since I have had anything other than water to drink.
March 28,2017
So today was the first day. We learned some stretches that were new to me and apparently new to my body as well, because I was not very good at some of them. I almost fell on my face a couple times just trying to keep my balance. After that I had the chance to complete my timed mile and while I knew it wasn't going to be a good time I really wasn't prepared for the time I finished in. Now I have never been a guy who liked to run or was very good at it but, I have never run a mile this slow in my life. Today was a big eye opener that told me I have a whole lot of work to do. With that being said I am excited to see what comes next and how much I will improve over the next several weeks. Everyone involved is very supportive and encouraging. I have never been so excited to wake up so early in my life.
March 19, 2017
So today was orientation. Only one more week to go and we can get this show on the road. I am still a bit nervous not knowing what to expect but, I am excited to get started and change my life for the better. I want to express my extreme gratitude to Rick, Tina, and everyone else involved with deciding to let me a part of this program. I can promise I won't let you down. I also want to thank all of the sponsors, trainers, nutritionists, and anyone else I might be forgetting. I am truly grateful for everything you are doing for not only me but, the rest of the contestants and alumni.
Read more
Read more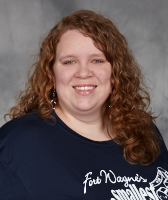 Read more